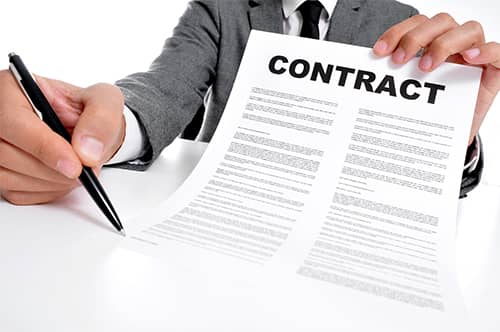 Unfortunately, the days when "words had more value than a paper" are gone and today, most relationships (businesses, marriages, works, etc.) ends sooner or later in court. Contracts are public or private instruments, which establish agreements that base a legal relationship between two or more parties, the definition comes from the Latin contractus.
As the American actor Tom Waits said: "The big letters gives it to you, the smaller ones takes away". But that's not the only factor. In fact, a contract should foresee everything that could happen in a commercial, marital, work, relationship etc.
I often receive clients with disputes, amazed to have been brought to justice and naively said to me: "I put a clause on it in the contract... "put abusive or vexatious clauses (violating any law, by the restrictions imposed) in a contract is not only useless but can also be counterproductive in court.
Once I decided to take out health care insurance, I called my brother-in-law, which is an insurer, and I asked him to introduce to me the best insurance policies to examine the proposals. I was hesitant with two proposals, but when I read the contracts, I asked them to make changes. My brother-in-law, diligently, solicited to the two insurers who changed the contracts and both refused. On reflection, I decided not to sign any insurance contracts because I considered that, in any event, the insurance had not settled a certain type of claim. To this day, I am my own insurer and I don't sign contracts that do not convince me.
A good contract to value your rights
Voltaire said: "We need notaries and priests, witnesses, contracts and waivers." the naïve replied with the thought that the Savages always do: "So they are very dishonest if they take so much precautions ". That's the essential point, because many do not ask for a well-made contract for the fear that the other party will call them distrustful. In these cases, I always say that trust, love, friendship, etc., is one thing and the fact of not being protected by any radical change in a relationship is another.
The American dancer Isadora Duncan argued about matrimonial contracts: "Every intelligent woman who reads and signs a marriage contract, deserves all the consequences." In front of the notary who advised my fourth wife not to sign a marriage contract, I replied: "I am in love, but I am not stupid!" and I came to my fourth divorce without impoverishing myself.
Well, aside the jokes (but not so much) and quotes, the fact is that in any kind of relationship, a contract (Yes, with a capital C) is the tool that, in case of discord, will allow you to assert your rights. .
Well-made contracts, are not only based on the laws in force, but also on the experience of many people who preferred the "do it yourself ", will cost you little: An infinitely small part of what could cost you a lost deal.
If you intend to hire services or workers, associate with a business, get married, etc., contact us without obligation and we will explain the benefits of regulating relationships through a contract.