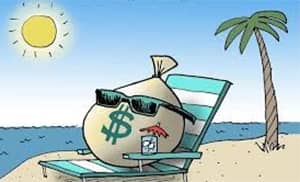 The incorporation of an offshore company continues to be one of the best solutions for those who are trying to create an international business, protect their assets and reduce the abusive tax burdens that reign in most countries.
Offshore companies are structures registered first of all in a jurisdiction with low or zero taxes. These jurisdictions count on laws that are very favorable for legal or physical persons who establish a legal residence there. The idea is to attract greater foreign investments toward these territories, which are usually very small and without a lot of natural resources. In exchange, they offer very low taxes, since the business of these offshore companies are always made outside the jurisdiction.
Creating an offshore company is a relatively simple and quick process.
Furthermore, opening an office isn't essential; nor is hiring personnel. In case it's needed, it's not even required to give the real owner's name, but a nominated shareholder's name may be employed.
Various campaigns have been launched in recent years against offshore companies. Some communication media have attempted to relate these company structures to the economic problems of these countries, to allege that the wealthiest people supposedly use these tax engineering operations to pay less taxes. These same media don't recognize that political corruption, the waste of public funds and an increase in military expenditures that obstruct economic growth in these countries. In reality, international laws allow these people to move their income, legally obtained from anywhere in the world, therefore, there's nothing illegal about creating and using offshore companies.
Another criticism of offshore companies is that they can be used for money-laundering. Perhaps in some occasion a person has used — as one of his strategies for laundering assets — this type of structure, but it's completely wrong and unfair to put offshore companies and illicit activities in the same bag.
All these campaigns to discredit offshore companies could increase in the near future. The countries who put the heaviest tax burdens on their citizens will continue to approve new laws to prohibit these citizens from enjoying the advantages of the offshore world. These governments continue without understanding that, while they set higher taxes and increase minimum wages, the more attractive these territories which work to maintain tax laws that encourage foreign investment and the creation of offshore companies, will become.
The 10 greatest advantages for those who use an offshore company are:
Low or no tax rates;
Simplified commercial book-keeping or, in some cases, completely absent;
It's not required to declare income;
Greater privacy in banking operations;
Stronger patrimony protection;
Optimization of production costs;
Possibility of using nominated directors and shareholders;
Lower cost of personnel, covered by offshore contracts;
Prestige of an international structure;
Possibility of creating a "tesoretto" or extra income sheltered from the Treasury Department, co-editors, possible demands or claims.
Panama, the best jurisdiction for incorporating an offshore company
Panama is considered to be one of the best territories in the world for incorporating an offshore company. This country is to the North of South America and can depend on the most used interoceanic waterway in the world: the Panama Canal. Its political stability and economic growth have transformed it into one of the favorite destinations for foreign investors.
There has been a law in Panama since 1932 that protects the creation of offshore companies. They can be managed from any place on the planet. All offshore companies registered in Panama are exempt from taxes on earnings obtained outside the territory and there's no need to present balances or income tax returns. Caporaso & Partners, headquartered in Panama, in addition to incorporating your company, can offer you all those services necessary to help make your company work internationally and open bank accounts: mobile phones from Panama, SMS, proof of address for the banks, opening bank accounts, resident directors with references, etc.
If you'd like to incorporate a company in Panama, click here.
---
Do you need a consultancy on this topic?
Book it
Risk warnings
The views and opinions expressed in the web site are subject to change based on the laws, market and other conditions. The information provided does not constitute legal advice and it should not be relied on as such. All material(s) have been obtained from sources believed to be reliable, but its accuracy at the time you read is not guaranteed. There is no representation or warranty as to the current accuracy of, nor liability for, decisions based on such information.